We have the latest technology in Hawaii for Laser tattoo removal the PicoWay which is great for Military Laser Tattoo Removal as its fast and for all colored tattoos and all skin types. This Laser is the only one on the Island and just arrived so we are booking appointments now. When you think of Military Laser Tattoo Removal Honolulu Hawaii make sure you do your research and check us out. As many soldiers , sailors, airmen and marines know tattoos are frowned upon by the armed services. We provide LASER tattoo removal services in the quickest amount of time since we have the latest technology and its done by qualified doctors and nurses. You can rest assure we are fully trained and qualified medical practitioners. We utilize the newest and fastest machine out there the PicoWav with its dual wave technology. Its approved by the FDA for all colors and handles all very well.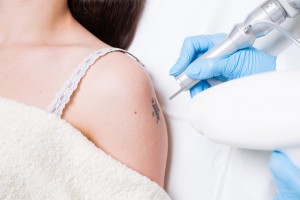 The cost is most reasonable for military personnel, we charge less than many do for the old technology. This technology will treat tattoos in less time so that means less sessions and less money. As example, you may pay 100 per session for a small tattoo and with the old technology it may take 6 sessions or 600 dollars. With this technology it may only take 3 sessions or 300 dollars. This only an example but shows you the difference in time and money. Some tattoos depending on many factors may take ten or more treatments which is rare even with the PicoWay.
Military Laser Tattoo Removal Honolulu Hawaii
Military Tattoo Removal Honolulu Hawaii via LASER is common and this is the best method presently.The PicoWay is indeed the latest and ultrafast for all tattoo colors.Remember to ask if the provider uses the PicoWay which is the only dual wave technology on the Islands. See our web site about
LASER tattoo removal
.
If interested please call our office at the at 808-945-5433